Does your busy lifestyle have you wondering how to have a spa day at home? Reveal nourished, radiant skin from head-to-toe with our expertly curated mio spa treatments. Our results-driven treatments are clinically proven* and supercharged with 100% natural feel-good fragrances, vegan, cruelty-free formulas and wellbeing boosting complexes to help support your mind, body and soul for skin that feels nourished and supported.
*Independent clinical trial
Whether you want to calm, cool or invigorate, here's how to have a spa day at home with our at-home spa treatments that have been carefully created with you in mind and are designed to suit every body and every lifestyle.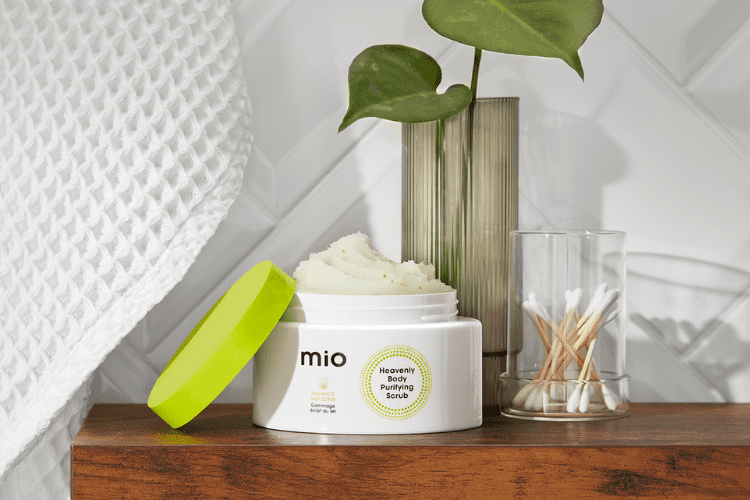 1. The Heavenly Body Detox
Up first in our list of treatments on how to have a spa day at home is our heavenly body detox. Deeply exfoliate and hydrate your skin with this radiance revealing body treatment. Created to address your skin's needs, this invigorating treatment works to immediately transform your body, leaving your skin feeling super smooth and hydrated. Our iconic Feel-Good Complex combined with a 100% natural blend of sea salt and reviving aromatherapy essential oils polishes away dead skin cells and infuses with skin with intense moisture and nourishment. Skin will be left feeling silky smooth, beautifully bright and restored.  
Products featured: 
Spritz With Liquid Yoga Space Spray: spritz at the beginning of your treatment to help induce a sense of peace, calm and tranquillity.  
Prep With Dry Body Brush: to exfoliate and invigorate your body, revealing smoother and fresher looking skin underneath. 
Scrub With Heavenly Body Purifying Scrub: a sea salt based, moisture-rich scrub that deeply exfoliates dead skin cells leaving skin looking and feeling incredibly soft and smooth. 
Hydrate With Go With The Flow Body Oil: a relaxing dry body oil that channels the power of aromatherapy essential oils to comfort busy minds and soaks into the skin for an ultra-calming experience.