When it comes to being 'summer-ready', there's no such thing as too much preparation. We want our skin to be soft and smooth all-over, every day. With the temperatures heating up and rays of the sun beating down, there's always someone to suggest an impromptu trip to the beach. Such a spontaneous idea is often welcomed with open arms. That is, if you're prepared. A beach outing means swimming suits and unless you put care into how you shave your bikini line, there's no hiding those razor bumps. Shaving can be incredibly irritating on the skin, especially on the delicate areas below. However, ingrown hairs and angry bumps should not simply be accepted as a byproduct of shaving. It is, in fact, possible to have both a hairless and a smooth bikini line.
Keep reading for everything you need to know about how to stop a shaving rash on the bikini line.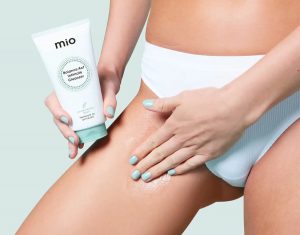 How to shave your bikini line
Before we look at how to stop those shaving rashes on the bikini line, let's begin by looking at how to actually shave your bikini line. You can of course, use a razor, but make sure it's a clean, sharp one. Shaving the bikini line is similar to shaving the legs in that the less care you put into the routine, the more effort the process involves. A few strokes of a rusty old blade is a recipe for irritated bumps and constant stubble that won't budge. The tool of choice should be a four/five-blade razor with a moisture indicator strip to let you know when it's time for a blade change. Once you have your equipment ready, it's time to put a stop to that shaving rash on the bikini line.
How to shave the bikini line requires a gentler method than shaving anywhere else. For example, shave with the hair growth rather than against it and always stick to the one direction. Only apply a light pressure with short strokes. One sweep of each section should be enough if you're using a razor with four or five blades.
What causes razor bumps?
There are plenty of causes of razor bumps, from a rusty blade to poor technique. If you have sensitive skin you may find it particularly difficult to avoid these nuisances. Razor bumps can be caused by ingrown hairs and lead the skin to feel inflamed, itchy and irritated.
There are some tips to prevent razor bumps, the first being to soften the skin as much as possible before shaving. During a warm shower, leave the task of shaving the bikini line until last. This will open the pores and allow the hairs to be removed easily. Exfoliating the skin also helps. Try lightly dry brushing and follow up with a body scrub to shed away the tough skin that can end up trapping hairs.