The 'just in from a run' look can go one of two ways. A dewy forehead and flushed cheeks or a violent shade of red and dripping with sweat. Two skin reactions from exercise that at first may appear very different. However, they can, in fact, have something in common. That is, an inflamed itch underneath clothes, otherwise known as chafing.
Commonly occurring in areas you can't exactly itch in public- it can leave you feeling uncomfortable, irritated, and awkward. We understand. Here's how to stop chafing.
What causes chafing on thighs
Chafing is caused from friction against the skin, especially when combined with moisture. That's why you may notice it in environments that are particularly warm. Think of irritated armpits on holidays or Ross' leather pants dilemma in Friends. However, the biggest concern for most is how to stop chafing on the thighs.
There are two types of chafing on the thighs: Skin-on-skin chafing and fabric-on-skin chafing.
For example, when wearing a skirt during the summer, the inner thighs rub together. As there is no material there to separate them, there is nothing to prevent the skin-on-skin friction.
On the other hand, wearing loose-fitting trousers, particularly those made of cotton, is an example of fabric-on-skin chafing, and a recipe for disaster.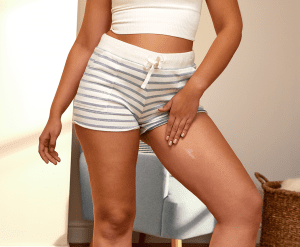 Other causes of chafing on the thighs includes endurance sports. Healthline have listed biking and running as two of the problematic exercises. This is no surprise as both of these sports involve a lot of rubbing of the inner thighs, either against a saddle or each other.
How to stop your thighs rubbing
It's said that the best cure is to avoid the cause. Is throwing out our skirts the only way how to stop chafing? Surely not! Luckily we have found another way how to stop your thighs rubbing against eachother.
To put a stop to chafing during the warmer months, keep your legs moisturised. The Mio Skincare Move Groove Anti-Friction Balm provides a layer of protection over the thighs.