When we think of skincare, our minds might jump to our complexions. We think of double cleansing, toning, and all of the other steps towards a glowing face. Our bodies don't get the same attention. If your body skincare routine is limited to stepping out of the shower and dabbing on a bit of lotion, you're not alone.
However, this year is all about giving our bodies the care they deserve. From dry body brushing to serums, skincare no longer stops at the neck. It took time to grasp all of our face's essential routines and ointments. Now that we have, we can focus on our bodies' must-haves. What is a body serum, how do you use one and where does it fall in a body skincare routine? Fear not, we've created a guide to tell you everything you need to know about the latest body-care addition.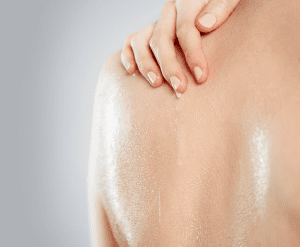 What is a body serum?
We've recently come to terms with a facial serum. Now sitting firmly in the second step of a morning cleansing routine, there was confusion surrounding it at first. We soon discovered that the little bottle of hydrating droplets is not to replace a moisturiser. It plays its own, equally important part.
Just how our faces can benefit from a serum, so too can our bodies. If you're wondering what a body serum is, it works in the same way, by infusing nourishing ingredients into the skin. The best body serums contain active ingredients and because of the light, thin consistency, these ingredients can absorb deep into the skin's surface.
Do I even need a body skincare routine?
You need a body skincare routine for multiple reasons. While dry patches are irritating and dullness is confidence knocking, well-maintained skin all over is essential for our health. According to Avogel, the skin often acts as the body's first point of contact with viruses and bacteria, so is a focal point for our immune systems.
So for bright, hydrated skin that also acts as a defence barrier- you may need more than the soap you picked up while doing the food shopping. The first step is to free the skin from the build-up that it accumulates. This build-up can be a mixture of things, such as oil, pollutants, perfumes or lotions. Dry Body Brushing is a great way to budge the first layer of residue and dead skin cells.