"I use exercise as a practice of mindfulness. Being in the moment, without having to think has done wonders for my mental health."
As part of our Month Of Mio, we sat down with influencer and fitness enthusiast Flora Beverley (@foodfitnessflora) to chat about how she uses exercise as mindfulness and how you can make small, achievable lifestyle changes and do away with quick-fix fitness routines and fad diets.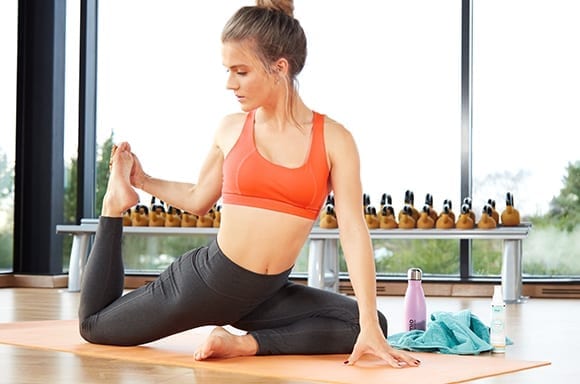 Why is it so important for you to make time to keep active?
It keeps me sane. I love working out although I was not a sporty person at school. I only really found it when I was seventeen or so when I was playing national squash.
And for me, the benefits were way beyond the physical benefits that people promise. It was the mental health benefits, mainly, that kept me motivated.
So when I first discovered fitness, I was doing it probably more to try and get fit, maybe lose a little bit of weight. And then I found that actually, sure those things are great, but what keeps you doing sport are the mental health benefits that have remained throughout my fitness journey.
How important for you is it to practice mindfulness?
I use exercise as a practice of mindfulness. Being in the moment, without having to think has done wonders for my mental health. The mindfulness benefits of boxing have been a key part of why I continue to box. In boxing, you can't think about anything other than what your next move will be. You can't focus anything that you did previously or anything that is coming up, you have to focus on the present. Because it's so fast, you've literally got to be in the moment, in the now. That's my kind of mindfulness.
I'm not very good at staying still to do things. But I've been much more aware of making mindfulness a habit so I've been trying to incorporate it in a more relaxing way. So taking ten minutes during the day to not be on your phone or your computer and instead just sit and relax. A bath is a great way to do it cos you can't doing anything in the bath, having your phone there is a real risk,  one that I'm not really willing to take! I especially like using my Liquid Yoga Bath Soak to help relax and switch my mind off.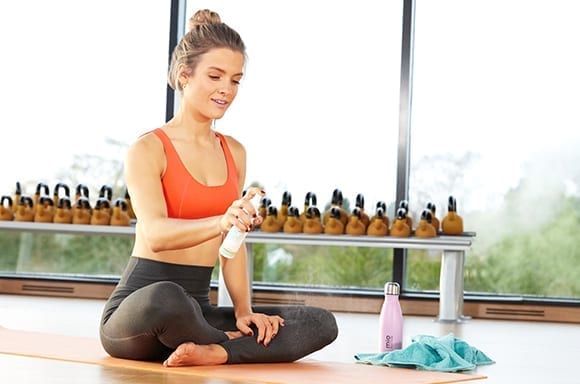 If you were a yoga position, which one would you be?
Child's pose, I think. Or a headstand depending on my mood and whether I'm hyperactive or not.
How do you incorporate yoga practice into your everyday?
I do a bit of yoga but I don't do it every week. I've started incorporating it more, especially as I get older, not that I'm very old! But as I get older I find that it's much more important to stretch and do less of the intense stuff and give my body a chance to recover. Yoga and pilates have been quite a key part of that and I've found myself enjoying it more. I used to absolutely hate yoga but now I don't feel the need to always be gunning it when I work out.
I actually think that some of the yoga positions are really hard and a workout themselves. I had a yoga session the other day at South Kensington Club in London and it was the most wonderful thing. Afterwards, I felt so zen and I've never felt like that after a yoga class. I'm running the Tokyo Marathon so I plan on incorporating more yoga into my training.
How important do you find exercise for de-stressing and chilling out?
I would say it's the most important part of my life in terms of destressing. It's not the reason I've started fitness but it is the reason I've continued it for so long and as part of my everyday routine.
Why did you want to work with Mio Skincare?
Well, I love the brand and after trying the Liquid Yoga, I was obsessed.
I did this 19km run and I was thinking, 'how am I going to be able to walk tomorrow?'. And then I remembered this is the product my dad's girlfriend was raving about. So I gave it a go and I could walk the next day – which is unheard of after a long run. Usually, I'm unable to do the stairs and my knees are falling apart. I just did not hurt at all and I was honestly shocked.
I've heard about and seen Mio left, right and centre in the fitness industry and that was what made me think, this brand has longevity.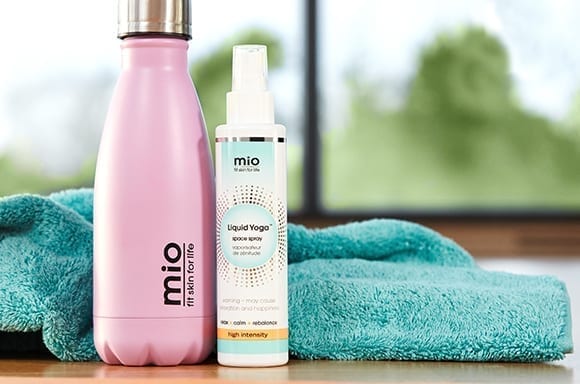 Bodycare that works as hard as you do
We hope that you've enjoyed getting to know Flora during our Month of Mio and feel inspired to find a practice of mindfulness that's best for you. Whether you're a regular on the yoga mat or prefer to wind down in a long, hot bath, make sure to use Liquid Yoga Bath Soak and Space Spray to help relax and rebalance your mind. A quick spritz on your yoga mat or a good glug in the bath will have you de-stressed and chilled out in no time.
How it works
Mio Liquid Yoga range has been expertly designed to bring calm to any atmosphere. Infused with essential oils, a mist of Liquid Yoga Space Spray creates a calm and tranquil environment to ease your mind and help you relax at the end of the day.