Calling all creatures of habit everywhere! Over the past year or so, creating the perfect facial skincare routine was at the top of everyone's priority list. Now you've mastered your facial routine, it's time to turn our heads to an area we all know and love – our bodies. Some may say that a quick rinse in the shower and slapping on some moisturiser is all you need to do, but if you're looking to go the extra mile and boost your Vegan skincare routine, you've come to the right place…
Read on to discover different vegan skincare routines using our expertly formulated products that work for every personality.  
The Basics 
In every bodycare routine you should start with 4 simple steps: Exfoliate, Wash, Moisturise and Nourish. These four steps pave the way to the skin of your dreams, each just as essential as the next.  
Exfoliating is the first step to revealing radiant and glowing skin. By removing the dead, dry and dull skin cells from the uppermost layer of your skin, you create a perfectly prepped base that allows your next products to absorb easily. Using a physical exfoliator like a body scrub or tool allows you to physically buff away dead skin cells, whilst a chemical exfoliator encourages skin cell turnover, by breaking the bonds that hold skin cells together. Both work hard to reveal renewed skin, ready for the next step. 
It's no surprise that step number 2 on our list is to Wash. We've all been doing it since time began, the only difference today, is the expert products we now have on offer to turn what some may think as a mundane part of their routine into a refreshing bit of 'me-time'. Ensuring you use a body wash that doesn't dry your skin is crucial, we want to clean and cleanse the skin as well as hydrate!  
Once finished in the shower or bath, the next step is to moisturise. Choosing a moisturiser can be tricky, do you go for a lotion? An oil? A butter? With so many to choose one, narrow down on what texture you prefer and how much nourishment your skin needs. For a thicker, more luxurious texture, choose a butter. For a lightweight, silky texture, go for an oil.  
The final step is to nourish the skin. Now, this all depends on what your body needs. Perhaps your skin needs some extra hydration, so you choose to layer an oil on top of your cream. Or your muscles need a little extra love from our cooling Muscle Motivator Revitalising Gel. Listen to your body and give it what it needs!
Now we have the basic's mastered, let's discover a routine for every personality!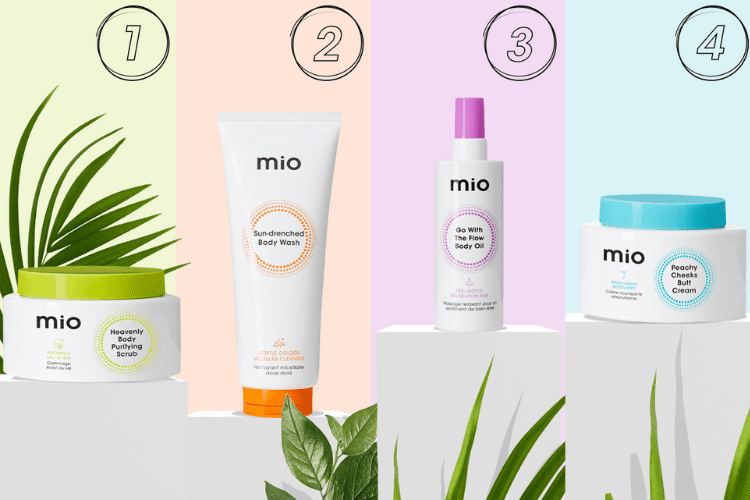 Your Post-Workout Routine 
Step 1: After your workout and before you hop into the shower, refresh and detoxify your skin with our Heavenly Body Purifying Scrub. With Salt Crystals and moisturising Almond and Coconut oil, your skin is left feeling revived and fresh.  
Step 2: Hop into the shower and rinse away any sweat, dirt and impurities with our Dive In Body Wash. This refreshing, Eucalyptus scented wash is the perfect post-swimming partner. The clever, natural formula helps to protect the skin against the drying effects of salt water and chlorine, as well as banishing any post-workout odours. 
Step 3: Give your skin a deep and intense moisturise using our Future Proof Body Butter. Packed full of Omega-rich actives and powerful blend of Myrtle and Olive Oil, your skin will stay protected and hydrated.  
Step 4: Nourish any weary or achy muscles with our Muscle Motivator Revitalising Gel. This cooling gel has an energising menthol scent and a refreshing, blue gel texture. Apply after your workout to give back to your hardworking body, nourishing the parts that need that little extra help.