Deodorant is something that we apply to our skin every day without even thinking about it – it's like brushing your teeth. But, have you ever considered transitioning to a natural deodorant? Take a detox from your aluminium-based antiperspirant!
We know that the process of transitioning to a natural deodorant can leave you feeling a bit, well, smelly. But, the truth is you just have to give it some time for your body to adjust. Interested? Keep scrolling to find out more about the difference between a natural deodorant detox vs antiperspirants, what you can expect from our Mio Skincare Pit Proof Natural Deodorant and how our Clay Away Body Cleanser could help support your underarms on your journey to happy, healthy pits. 
All it takes is a little patience…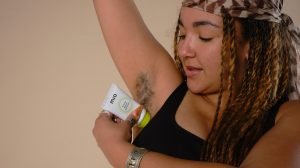 What's The Difference Between Deodorant vs Antiperspirants?
First thing's first, let's explain the difference between deodorant vs antiperspirant.
Deodorants: These are created to get rid of/mask armpit odour, but not perspiration (sweat). When applied, they create an acidic environment on your skin which is less attractive to bacteria. Mio's nourishing natural deodorant is made with moisture-controlling minerals and sugar shield technology to create a protective layer on your pits while helping to keep you smelling fresh throughout the day.