To celebrate International Yoga Day we spoke to Sophie, expert Yogi and founder of LOVE NG YOGA, about her thoughts on how the practice can help your wellbeing, her favourite positions and how to start yoga at home if you're a beginner…
Hi Sophie, thank you for chatting to us for International Yoga Day. Firstly, what's your favourite Yoga position?
It changes daily – I love to move with how I feel in each moment.
What about your favourite Yoga mantra?
Some that come to me in times I need are Gayetri Mantra, Ganesha Mantra and So Hum & Om.
Where's your favourite place to practice Yoga?
From the heart.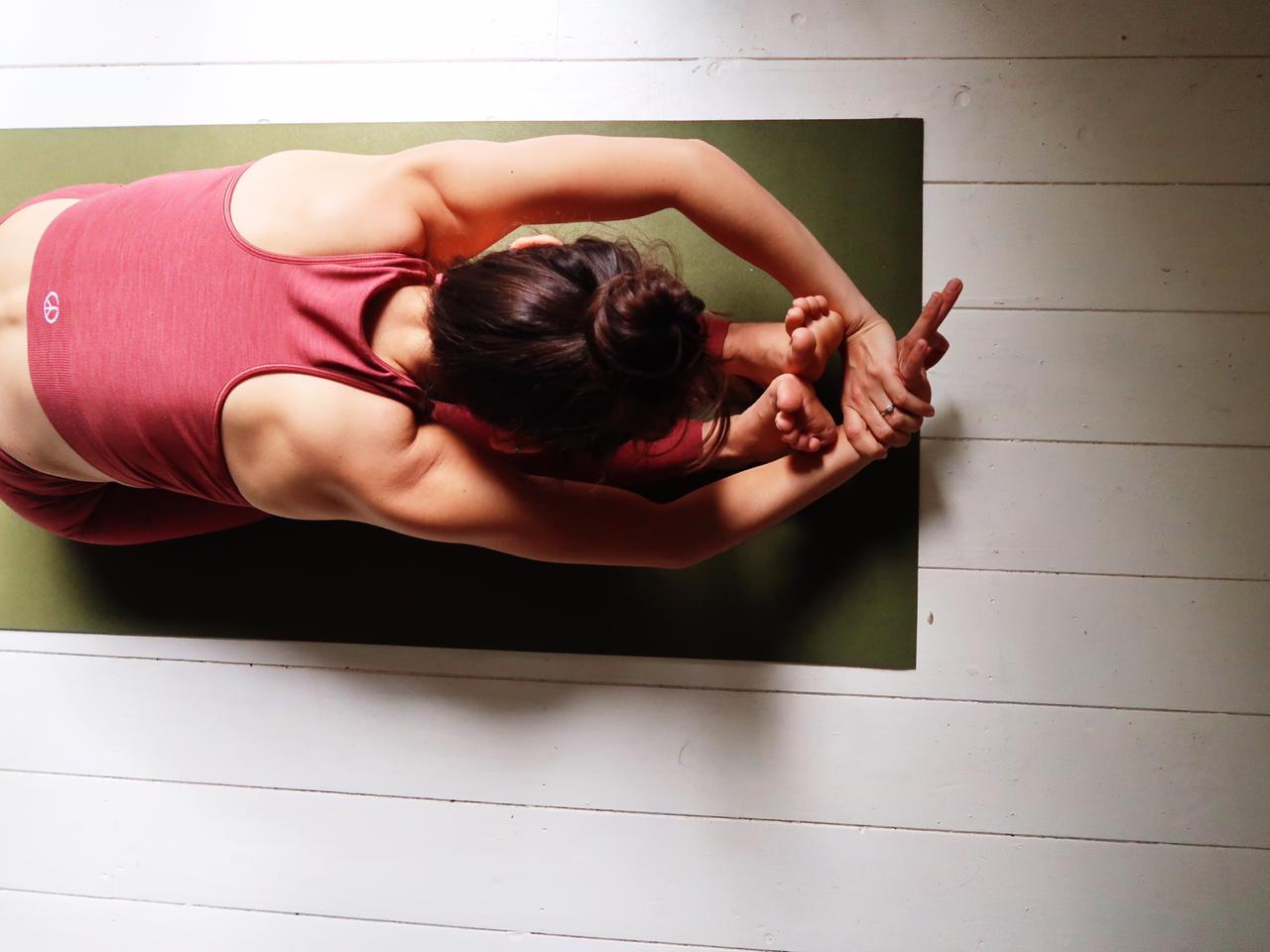 We're curious as to how you got into Yoga?
Books, yoga DVDs, Geri Halliwell's 'Geri Yoga' (she was a Spice Girl after all). I started looking into yoga & pilates when I was around 16 – I had a friend at school who was an amazing dancer (she still is to this day) and she was taking her studies to the next level. With her training, she started to look at Pilates and I decided to check it out too – this led me to yoga and I tried it off and on from then. I got deep into my practice when I was in my early to mid-twenties, then fell out of it until my late twenties and early thirties when my view and approach to the practice changed. The fun thing is that it will keep changing, I will keep changing and learning and it's this endless realm of possibility that I find so exciting.
How do you believe that Yoga improves your own wellbeing?
This changes for me as I move through life. Initially, I did yoga to move, as a complement to my dance training (which was in no way serious, just a childhood and teenage passion). It also became a way to move my body in new ways, whilst keeping the poetic fluidity of dance. As I have practiced longer, it has become a sanctuary. More and more I realise that it is not just about the asana practices but about how you move through your life, finding a centered presence in each moment, living in the now. Living from your heart space, for yourself and for others. Being present. For me, yoga practice is not a structured thing, if you are having a time in your life, your week or month where you feel that yoga is a chore, then release yourself from that expectation to move physically maybe just meditate, enjoy Childs pose, legs up the wall pose, savasana slow yin or restorative movements. Don't feel obligated to do something particular, move from the heart space, not the head.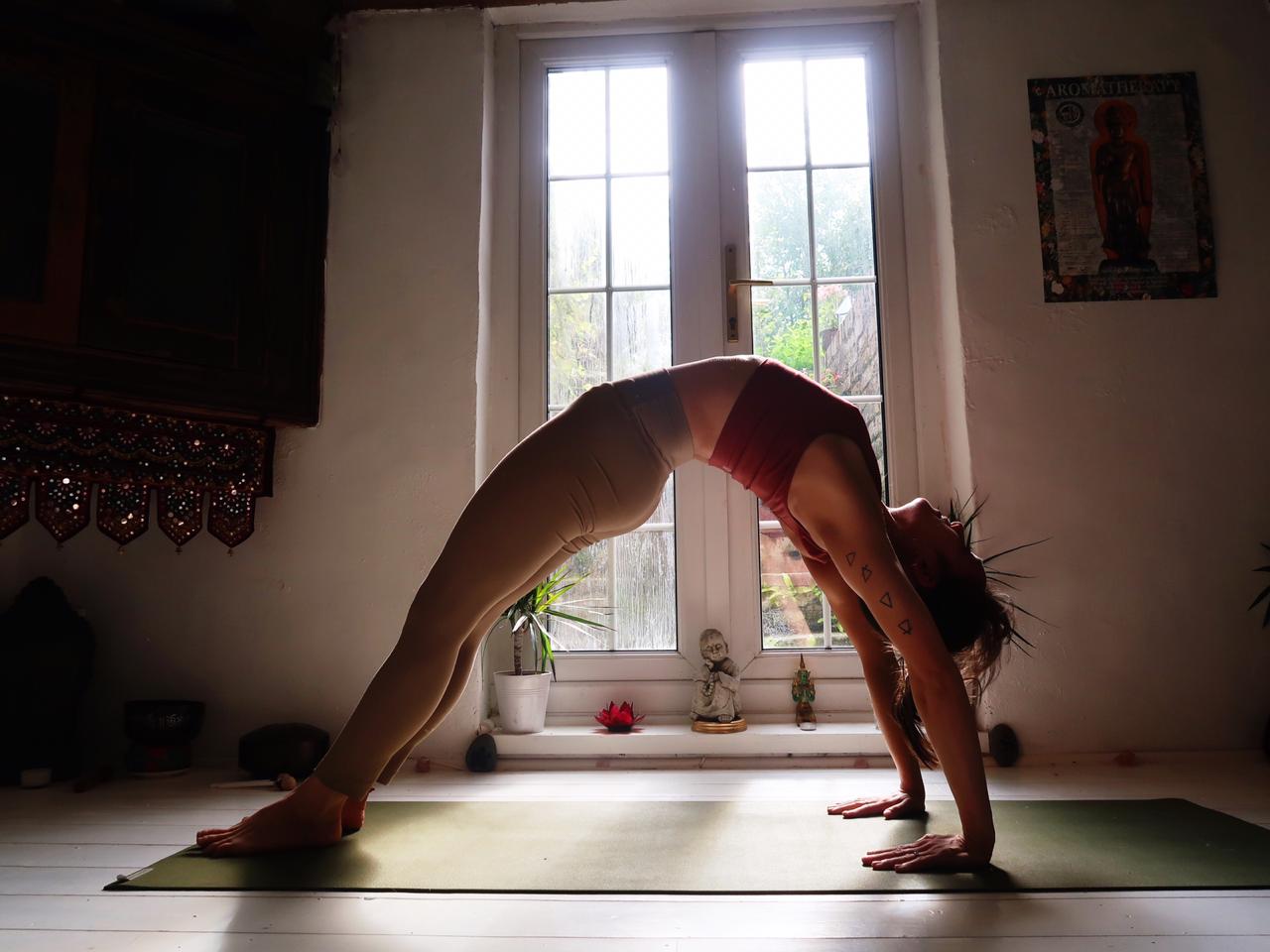 Yoga At Home Tips & Advice
Can you give us 5 tips on how to start practicing yoga at home?
1. Create a space that feels welcoming, clean and calm. I recommend tidying clutter; tidy house, clear mind. You don't need a huge space but let that space be inviting. If you are interested in energy cleansing, you can burn sage or Paolo Santo to clear the energies – you can use a sound bowl or cymbals in each corner of the room to shift stuck energies. To sage the space or home, go from room to room with a sage smudge stick; windows closed, close each door after you have saged the room. When the space or house is done, leave for a few hours, upon returning open all the windows, release whatever needs to be released.
2. Perhaps try burning some incense, essential oils, a naturally scented candle, something to make the space feel sacred. I love California white sage incense and good old fashioned nag champa. Right now in my home, I am burning a lot of eucalyptus oil as it is especially great for the respiratory system. Lemongrass is also a favourite as it's mood-boosting in times when you feel low or anxious. I also love adding plants – oxygen boosting plants or fresh flowers to the space, like an offering.
3. A good mat is always helpful, I like a sustainable and eco-conscious brand. I go for natural rubber mats usually, however, don't feel like you need to make a huge investment, you could use a towel or rug if you're a beginner until you see if you like it.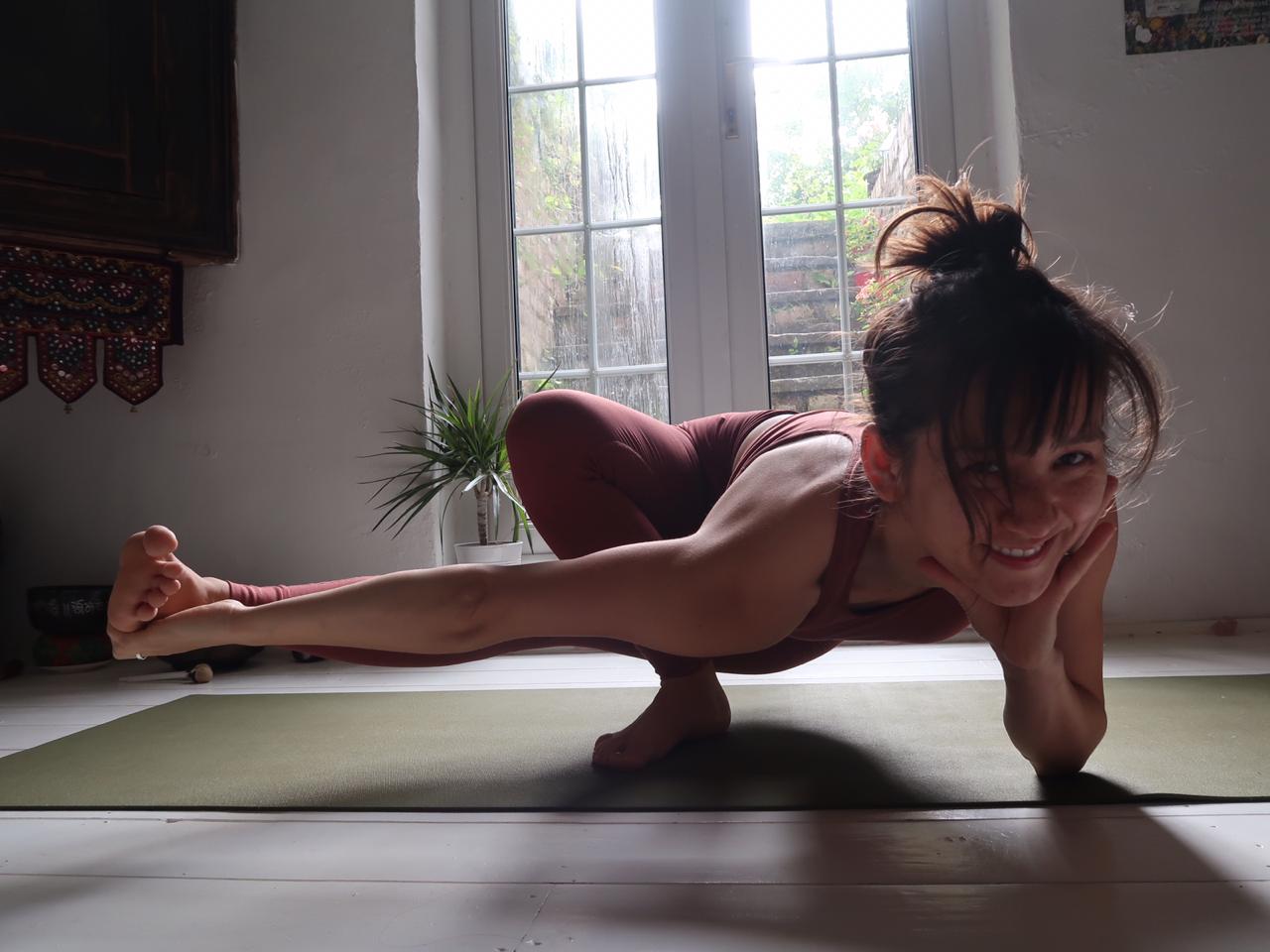 4. I love practicing with inspirational teachers. Since we have all moved our lives inside over the past few months some of my most beloved practitioners have started to share much more of their practices online, this has truly been a blessing at this time! I love Kino McGregors offering – Omstar's a virtual and endless library of classes and different styles as well as talks, recipes and meditations. Some of my teachers or best-loved practitioners who have amazing online offerings right now are Andrei Ram, Simon Park, Yoshio Hama, Pam Jones (Karma Coco), Shiva Rea and Sean Corne. It is great to have someone inspirational to follow if you are first starting out or on days when you are lacking in determination. Having a practice to follow makes doing it that much easier and more fun!
5. Distractions! Have some time offline – switch the phone to airplane mode for the time you are practicing (if you can), be away from the demands of technology for a bit of time each day. If you can, try practicing yoga at home in the morning – when you wake, leave the phone on airplane mode or pop it on airplane mode, make a cup of tea, read something inspirational. Give yourself 30 minutes to wake up then head to the mat, see what happens. If you're not wanting to get out of bed, tired or whatever, maybe try Childs pose, twisting, legs up the wall right from your bed! Try and not look at your devices first thing, stay in that sleepy headspace, don't let the mind switch on too much, just enter the practise and be in it.
Any further words of wisdom for our budding yogis?
Finally, I would say, let go of expectation, just roll out the mat, sit down, and see how you feel. Just do what you can each day, don't feel like you need to do an hour, 2 hours, this pose that pose, just do a little each day, maybe you will do more, maybe you will do 2 hours, but let go and let it flow. Yoga at home is not about how the pose or practice should look, but about how it feels and how you breathe.
Explore Sophie's world of Yoga here and follow her on Instagram and Facebook for regular tips and inspiration.
The Yoga Edit
Formulated with natural aromatherapy essential oils, our Liquid Yoga range relaxes the mind and creates a place of zen and serenity.