Life may feel a little tough right now, so it's more important now then ever to be a little kinder to ourselves. Self love is a common term that we often seen featured as a hashtag in Instagram captions. But, what is self love and why is it so important for our wellbeing?
It is often easier said than done and self love can sometimes be a tricky habit to nail. So, if you're looking for ways on how to master self love (aren't we all?) check out our list of our top 5 habits to help you practice self love daily. From meditating to working out and cooking yourself your favourite meal, these small acts of kindness can help lift your spirits during tricky times. 
What Is Self Love?
The phrase 'self love' can mean many things to different people. But, according to research the true meaning of self love is a state of appreciation for yourself that comes from actions that help support your spiritual, psychological and physical growth. It means putting your own needs and wellbeing first, not sacrificing your happiness to please others and not settling for anything less than you deserve. We couldn't agree more!
When we treat ourselves with kindness and compassion, we begin to accept our weaknesses and strengths. It's important to remember that it's impossible to stay positive every moment of every day and we shouldn't put pressure on ourselves to achieve this.  Self love is also about being able to accept the parts about yourself that you don't love.
If you choose to look after yourself first, you will have more energy and time to give to the people that you're closest to. If you're exhausted and depleted, you won't be able to be the best version of yourself because you don't have enough energy to give.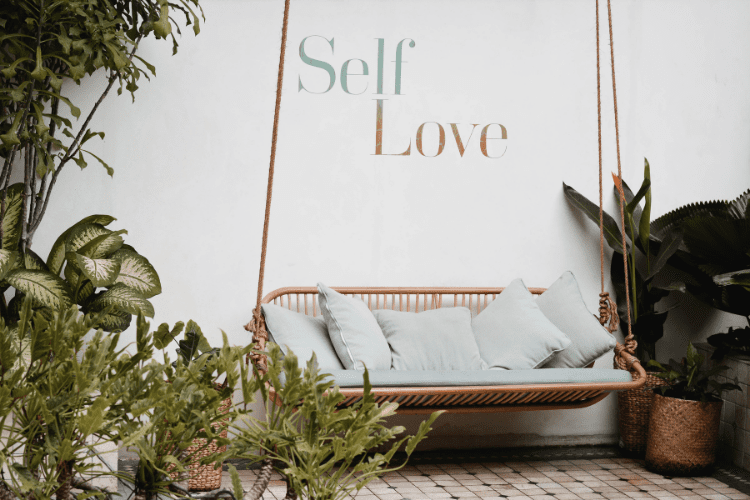 How Do I Practice Self Love?
Self love can manifest in a number of different ways. Read on to discover some of our favourite ways you can show yourself a little tender loving care, daily. Because you deserve it.
1. A Self Love Meditation
Many people use meditation as a way of relaxing, reducing stress, improving concentration and even helping you to develop a stronger understanding of yourself and increase your self awareness. Studies suggest that some forms of meditation can even improve your self-image, helping achieve a more positive outlook on life and even improve symptoms of anxiety.
Try Goodful's simple 15 minute meditation for self love. It can be done any time of the day, in the morning or evening and will leave you feeling restored, calm and content. To boost those zen self love vibes, use our Liquid Yoga Space Spray throughout your meditation to fill your room with a peaceful aroma, helping to induce a sense of tranquillity. Supercharged with powerful plant-based actives and aromatherapy essential oils including Lavender, Peppermint and Eucalyptus, this energising aroma will help you reach your desired state of zen.
2. A Workout
You already know that exercising can improve mental health and wellbeing, helping to manage stress, anxiety and even improving sleep. We aren't suggesting that you need to run a 5k marathon or hit the gym for an hour a day. But, exercising has been found to help you feel happier and enhance your self-esteem as you meet your goals, helping you to increase your self-love even further.
Whether you decide to go for a gentle walk or invigorating run, get into the habit of tuning into your body and asking yourself what you feel like it needs. Upon returning from your chosen method of exercise, treat yourself to a refreshing shower with our Skin Essentials Routine duo. Supercharged with plant-actives and feel-good essential oils, use our reviving Dive In Body Wash to gently cleanse and refresh your skin and Future Proof Body Butter to lock-in that hard earned hydration, infusing your skin with an uplifting scent.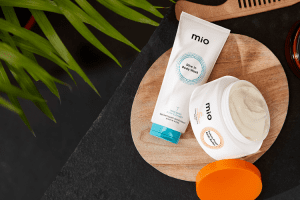 3. Treat Yourself
Don't think of treats as rewards that you should have to earn. You don't need a reason to treat yourself and life is too short not to treat yourself on the daily!
If you're looking for self-care and self love ideas on ways to show yourself some love, look no further than our indulgent bodycare gift sets. Packed with nourishing plant- actives and feel-good fragrances, our skincare gift sets will give you a boost of body confidence and feel-great vibes anytime of day!
Purifying Skin Routine duo to inject some body-loving vibes into your daily self love routine, giving your skin the pamper it deserves. Start with our Clay Away Body Cleanser infused with Green Clay and Black Willow Bark to help purify and deeply cleanse the skin. When you step out of the bath or shower, slather and smooth our Future Proof Body Butter over your body, blended with Omega-Rich Actives and Andiroba Oil that leaves your skin feeling intensely hydrated with a subtle citrus and orange blossom scent.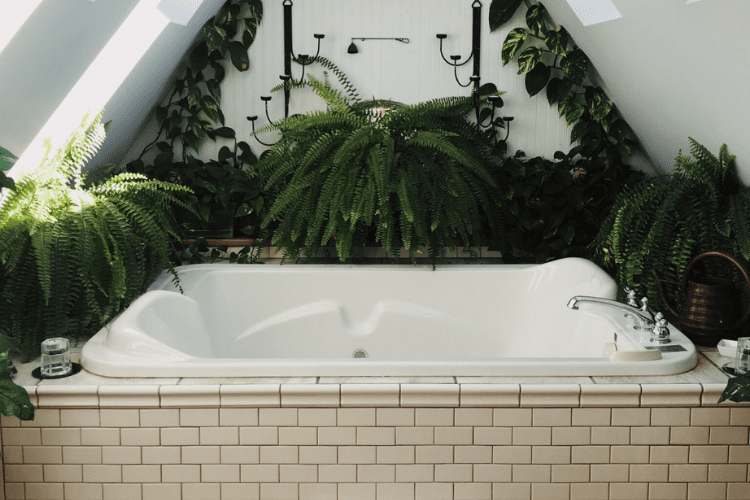 4. Eat Well
Feeling a little down? When you're feeling low, it can be easy to reach for the sugary doughnuts and greasy pizza. But, research has found that eating certain foods can help to improve your overall brain health and might help to boost your mood. These include bananas, oats, berries, nuts, coffee and even chocolate (as if we needed an excuse).
So, up your self love game and nourish your body with these nutrient and vitamin rich foods to help you feel your best each day. Not only are they nutritious but they're super delicious and easy to find. In fact, these foods can be found as ingredients in our latest post about our top 5 simple vegan recipes. From a decadent chocolate brownie to caramelised banana pancakes, these are the best recipes for some indulgent self love.
To make your skin shine as bright as you feel, enhance your feel-good glow with our Golden Hour Body Moisturiser infused with illuminating pearlescent minerals and our Antioxidant Complex to give you healthy, radiant skin all year long.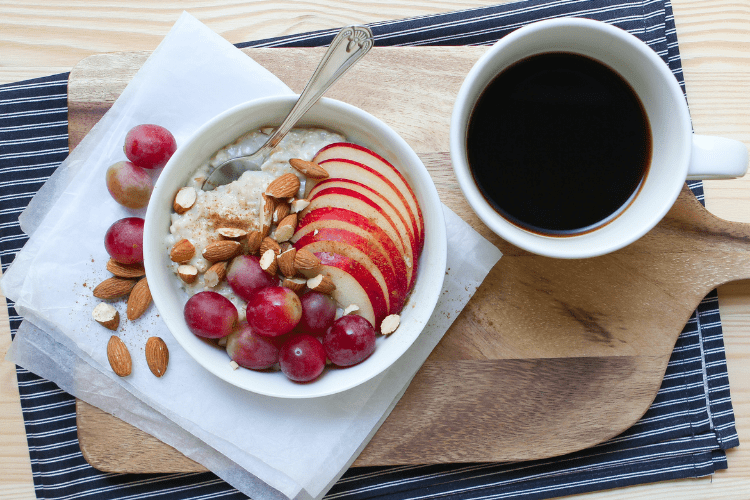 5. Gratitude
Have you ever stopped to think about the things that you are truly grateful for? Life is full of busy moments and we rarely get a chance to stop and think about the positive things in life. Developing a morning and evening routine that is dedicated to your gratitude is an amazing way to boost self love.
Begin writing a self-love journal and each morning when you wake up, write down 3 things that you're grateful for and do the same thing before going to sleep. It can be the simplest or smallest thing. For example, that first cup of coffee in the morning, your good health or a phone call with a loved one from afar. It's a great way of reflecting on the small, but mighty pleasures in your life.
Before writing your gratitude journal, set the tone with our Night Time Skin Routine Duo to help calm and uplift your senses. Begin by taking a long, relaxing bath with Liquid Yoga Bath Soak and inhale it's soothing, relaxing aroma. Then, apply Sleeping Smoothie Overnight Body Serum, packed with an AHA blend and Shea Butter to renew and deeply hydrate your skin as you sleep, leaving you with incredibly soft and radiant skin when you wake up.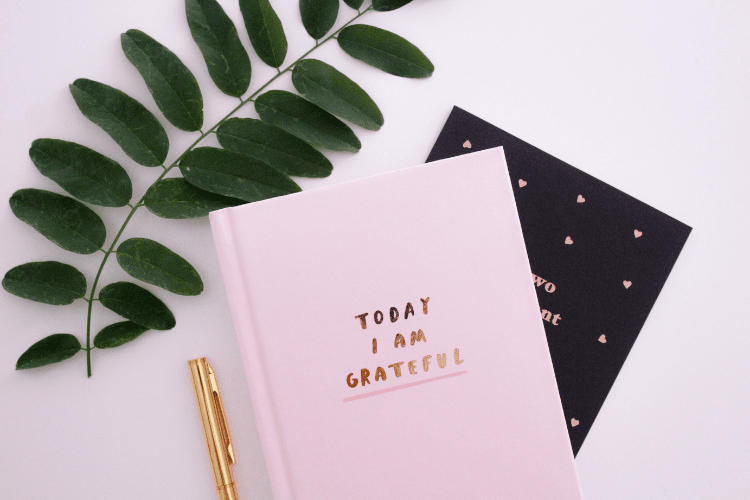 Your Self Love Bodycare Essentials