Glowing skin in the winter. Is it even possible, you ask? When our only source of daylight is reduced to just a few hours each day, that sunkissed, healthy radiance seems well out of reach. When vitamin D is replaced with cold, harsh temperatures, we're often left with skin that looks dull, cracked, and a little flaky. However, glowing skin in the winter is, in fact, possible. It simply requires a slight change in regime. Think buffing, hydration, and extra-glowy formulas.
Keep reading for Mio's top 5 tips to get glowing skin in the winter.
Why does skin dry out in the winter?
To begin, let's address one of the biggest roadblocks that stands between us and supple, glowing skin during the winter: dryness. You may be wondering, why does skin dry out in the winter anyways? It's not as though we have sunburn to blame.
We're aware of the damage that the sun's rays can do to our skin, but the winter weather isn't exactly complementary to it either. For example,

when the temperatures drop, there's very little humidity in the air. These conditions are one of the main reasons why the skin dries out in the winter. Low humidity actually draws moisture from our skin.

Why else does the skin dry out in the winter? Well, how we tolerate the bitter temperatures are doing us no favours either. That's right, we have heating to blame. As we scurry inside, making a beeline for our radiators to escape the cold, we're actually heading straight into another environment of low humidity.

The final, and the most upsetting reason why the skin dries out in the winter, is down our beloved long, hot showers. Yes, they provide the necessary comfort for those dark, frosty mornings. However, hot showers also provide the perfect conditions to strip the skin of all of its hydration.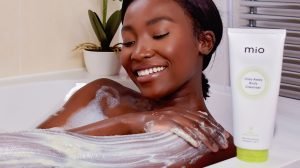 How to keep your skin healthy and glowing in the winter
So, let's return to glowing skin in the winter. There are some obstacles, such as the winter weather, which we simply have to accept. However, we have some tips on how to keep your skin healthy and glowing in the winter to help you overcome even the dryest of conditions.
1. Exfoliate before showering with a dry brush
To begin, start your bodycare regime before the shower. Use a body brush to buff away rough, dry skin that won't budge. This will also remove build-up and unclogs the pores so the skin is left feeling softer and smoother. Plus, with less build-up, your post-shower moisturiser will absorb better. For a step-by-step, take a look at our guide How to Dry Body Brush for Radiant Skin.
2. Control your temperature
With your dry brushing complete, you can now step into your lukewarm shower. We understand this may not have the same appeal, so we have some tips to make it more bearable.
Time your showers around exercise. This way your body temperature is already higher, and you'll be less interested in a piping-hot wash.
Start with cold water and make small temperature adjustments until it is lukewarm. This way, you'll feel as though you're using water that's hotter than it is.
Make it a habit and remember why you're doing it (to keep your skin healthy and glowing in the winter!)
3. Use a scrub
Whilst you're in the shower, use an illuminating scrub to remove any leftover dead skin cells from the skin's surface while helping the skin to feel moisturised and nourished. Mio's Solar Power Illuminating Sugar Body Scrub uses Golden Caster Sugar crystals to sweep your skin clean and a new Antioxidant Complex to protect for glowing skin in the winter and all year round.