There's no denying that our body skincare routines rarely get a fraction of the attention that our faces do. Within our face's sacred routines, we have multiple steps, ingredients, and techniques, all of which differ from morning to night. Meanwhile, we treat our bodies to a quick wash and a slap of moisturiser and we expect a smooth, firm base all year round. However, if we deny our body the care it deserves, it's highly unlikely that we will ever achieve the skin of our dreams. So, it's time to take a long hard look at your body skincare routine and start giving your skin the TLC it needs.
Here's how to build a body skincare routine for smooth and firm skin.
Step One: How to get smooth skin
The first step of a body skincare routine is to ensure that you have a smooth, refreshed base to begin with. Dry body brushing is an effective way how to get smooth skin that is also relatively simple. It is a method of sweeping your skin with a body brush to remove build-up, unclog the pores, and leave the skin feeling soft. It does this by exfoliating away any old, dead skin cells and bringing the new ones to the surface.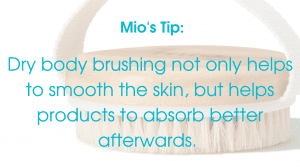 The best time to dry body brush is usually before a shower. This is because not only does it help to smooth the skin, with less build-up, your next steps of applying moisturisers and other bodycare products will be enhanced. This is especially useful if you are using products with effective, potent ingredients. These ingredients will absorb better and have direct access to the skin to carry out their jobs of helping you achieve the body skin of your dreams!
Step Two: How to get clear body skin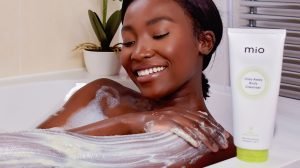 Once you have swept away the build up for a smooth base, it's time to move on to step two of your body skincare routine: how to get clear body skin. A refreshing way to get clear body skin can be by using a clay body cleanser to draw out impurities during your daily wash. Our Clay Away Detoxifying Body Cleanser doubles as a full body mask, leaving your skin feeling soothed and deeply cleansed. After you have dry body brushed, smear the mask over targeted areas to clear the body skin for a few minutes before jumping into the bath or shower to rinse it away.