Pollution is almost everywhere. Second-hand smoke, exhaust fumes and smog are all air-borne pollutants which have made their way into the atmosphere through human activity. While it's hard enough on your body, pollution could also be taking its toll on your skin. From blocking pores to premature ageing, exposure to pollution and environmental skin stress on a daily basis could be compromising your skin health.
Luckily, at Mio Skincare, we've got you covered to help you detox your skin and leave you feeling cleansed and refined.
How does pollution affect your skin?
Pollution comes in all sorts of forms, from environmental factors such as UV rays to man-made pollutants like smoking and cars exhausts. Pollutants released into the atmosphere can create free radicals which can compromise skin health. When skin is exposed to these free radicals, your skin can be left feeling dry and dehydrated and looking dull and clogged.
Introducing: Clay Away, 2 in 1 body cleanser and mask
Most skin care junkies will have a strict routine of cleansing and masking the skin on their face, but have you thought about applying this same routine to your body? The skin on your body is just as susceptible to clogging and showing visible signs of premature ageing as your facial skin.
That's why we've created Clay Away, a 2 in 1 body mask and cleanser which applies the same principle of facial skincare cleansing to your body care routine.
Expertly formulated to clarify and refine, Clay Away is packed with detoxing and cleansing ingredients to give you the ultimate skin detox:
White Clay and Rosa Clay: The fine and soft particles of mineral-rich White and Rosa Clays have a high absorption capacity, to allow for gentle cleansing and exfoliation.
Matcha Tea: Contains powerful antioxidants which help to restore balance and neutralise the effects of impurities on the skin.
Witch Hazel: Rich in polyphenols and tannins, it is known to be a powerful antioxidant and a naturally astringent skincare ingredient that helps to clarify pores.
How to detox your skin from pollution
The magic of Clay Away is its transformative clay to foam texture which can be applied to wet or dry skin. Apply as a body cleanser in the shower or leave to dry as a body mask for the ultimate skin detox.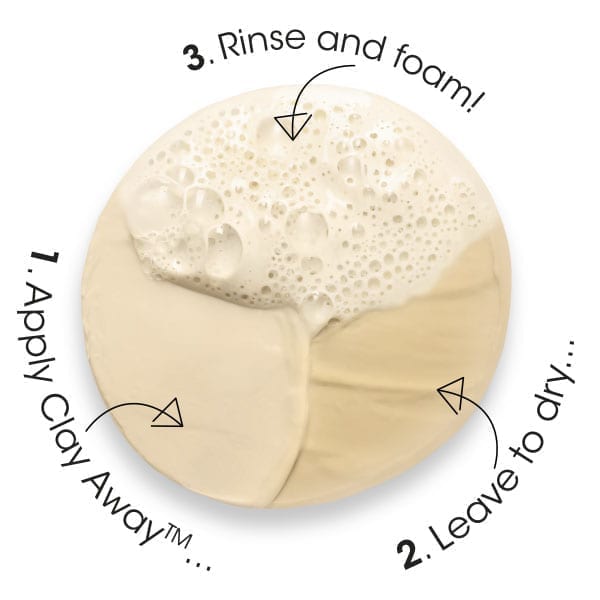 Apply Clay Away to wet skin as a wash-off body cleanser in the shower for a quick but clarifying body wash.
Or, apply Clay Away to dry skin and leave to dry for 5 minutes for a deeper, refining skin detox.
Once out the shower, pat skin dry and follow up with your favourite skin-quenching moisturiser for beautiful, clarified and refined skin.