Want to maintain a healthy skin glow? Introducing our
 NEW
Illuminating 
Solar Power Sugar Body Scrub
 for skin that shines as bright as you do. 
Read on to discover
 everything you need to know about
 how to use this natural body scrub, it's benefits and 
the best way to use it for ultra-smooth and deeply exfoliated skin.
 Dull, dry Winter skin is a thing of the past…
Our New Solar Power Body Scrub is an exfoliating sugar body scrub that leaves your skin feeling incredibly moisturised with a subtle radiant glow, leaving it looking so smooth it shines!  
This nourishing sugar body scrub is supercharged with Golden Caster Sugar crystals that buff away dead skin cells, combined with our NEW Antioxidant Complex; a blend of Myrtle and Olive Oil to help boost your skin's protection and bring your skin back to life for fresher, softer-looking skin. Charged with our New Uplifting Fragrance, a blend of uplifting notes of citrus and orange blossom for a mood-boosting shower experience.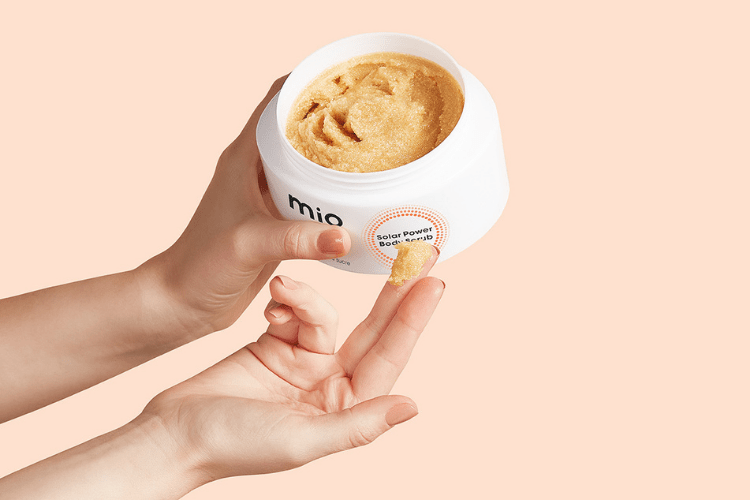 Exfoliating is key to maintaining beautifully soft and radiant skin. If you don't exfoliate regularly then dry, dull skin cells won't be removed and your healthy skin glow won't be revealed! 
This revitalising sugar body scrub instantly sweeps away tired, dehydrated and dull-looking skin cells to promote healthy and gorgeously glowing skin. If you're a regular shaver, then using a sugar body scrub on a regular basis can help prevent those pesky and painful little ingrown hairs too!  
Supercharged with our NEW Feel-Good Complex, a blend of Indian Fig Extract and Monk's Pepper Berry, our vegan-friendly exfoliating body scrub provides you with an instant sensation of wellbeing and keeps skin feeling hydrated, super smooth and prepped for your favourite mio treatments. What are you waiting for? Treat yourself to a head-to-toe, feel-great glow and ramp up your skin's radiance to the maximum!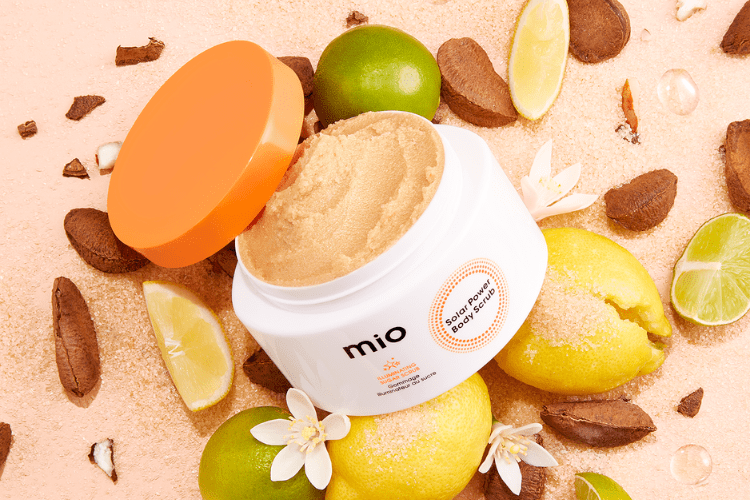 To get the most out of your sugar body scrub, you need to make sure that you're using it correctly. Below, we share our top tips on how to effectively exfoliate your bod for your most radiant skin ever. 
Since our Solar Power Sugar Body Scrub feels so good to use, it can be tempting to use it every day. But, over exfoliating can damage your skin and cause it more harm than good, especially if your skin is sensitive. So, we recommend using our exfoliating body scrub 1-2 times a week. 
How 
T
o 
U
se:
In the bath or the shower (totally up to you), take a generous handful of Solar Power Sugar Body Scrub and massage onto your wet skin using gentle, circular motions. For a more intense and deeper exfoliation, try using our exfoliating body scrub on dry skin. If you're a fake tan user, this is also a great way of making sure that your skin is prepped and polished, ready for application! 
2. Scrub Toward Your Heart
This is the best way of exfoliating your skin for circulation. Start at your feet and massage our vegan-friendly body scrub in circular motions, working your way up the legs and torso. Continue massaging all the way up to the top of your arms and chest.  
Don't forget your hands! Give them some TLC too and gently massage the remaining scrub into your hands and fingertips so that they are super smooth and restored.  
Once you have buffed your way to smooth and radiant skin, lock-in that hard-earned glow and nourish your skin with one of our ultra-hydrating body moisturisers. Choose our Golden Hour Body Moisturiser for a subtle, sunkissed glow or if you prefer thick, buttery textures choose our Future Proof Body Butter for mega-moisturised and luxuriously soft skin.