Winter is here, which means thick, woolly jumpers, hot chocolate and mulled wine by the fireplace. But, have you ever noticed how your skin responds to the colder temperatures? The cold air, low humidity and blistering winds can deplete your skin of the essential moisture that it needs to stay hydrated. But, fear not because we have created the ultimate guide on how you can get Winter glowing skin.
From thick, nourishing body creams and lotions to hydrating body washes. Read on to discover how you can get Winter glowing skin with our plant-based and cruelty-free bodycare to help keep your skin healthy and radiant all Winter long…
Why do I have dry skin in Winter?
During the long, cold Winter months we experience changes in temperatures and humidity which can contribute to feelings of dry, dull skin. Moisture is essential for your skin's barrier to work properly. The skin barrier contains a combination of lipids and dying, dead skin cells. It forms a layer of protection that helps to prevent harmful toxins from entering the body through the skin. When the skin barrier is damaged, it can look dry and irritated.
Scientific studies have shown that there is less moisture in the skin throughout Winter than there is in the Summer, as well as less lipids (fats).
Throughout the months of Winter, many people turn up their heating which can reduce humidity levels and deplete the skin of moisture. Additionally, the cold weather outside, harsh bitter winds and rain can strip the skin of it's natural oils that it needs to stay moisturised.
Unfortunately, although comforting, taking long, hot baths or showers can also cause the skin to feel dry and dehydrated as well as using harsh, stripping soaps and cleansers.
Common symptoms of dry skin in Winter can include:
Itching
Flaking
Rough, dry patches
Redness
Cracks
Stinging/sensitive feeling
How to keep skin healthy and glowing in Winter?
If your skin is feeling dry, damaged or dull then this is a sign that you need to replace it with moisture. However, it is important to keep your bodycare routine simple and not overload your skin with products, particularly if it is feeling dry, sensitive or irritated.
Using a hydrating body cream or lotion is the best way to rehydrate your body's epidermis and prevent further water loss from the skin. Moisturisers containing emolients and humectants such as Ceramides, Hyaluronic Acid and Glycerin can help to attract moisture to the skin.
According to dermatologists, to help keep the skin comfortable and nourished it is important to apply moisturiser as soon as possible after showering or bathing to help lock-in moisture and leave your skin feeling supple and soft.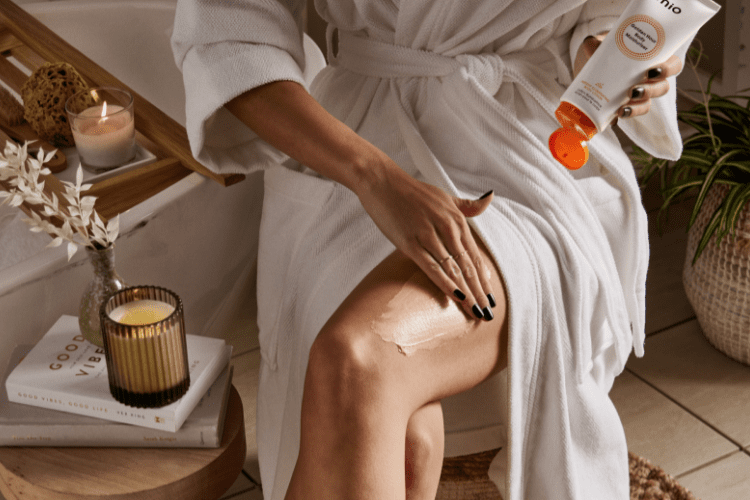 Your dry skin routine for Winter
Dry skin in Winter doesn't have to happen. If you make some simple changes to your bodycare routine, ensuring that you're regularly keeping it hydrated with the correct products then your skin will stay looking soft, smooth and nourished all Winter long.
So, we have listed some expert tips on how to keep your skin feeling and looking moisturised and radiant with a head-to-toe, feel-good glow this Winter season.
1. Moisturise straight after cleansing
Whenever you wash your body, hands or face you're stripping your skin of the naturally occurring oils that it needs to stay healthy. These oils help lock-in moisture, therefore it is essential that you replace them as soon as possible.
Try keeping a tube or tub of moisturiser next to your shower/bath. Our Future Proof Body Butter is the best cream for glowing skin in Winter, as it is packed full of omega rich actives including Andiroba Oil and our Antioxidant Complex to help protect your skin from dryness during the harsh Winter months, leaving it feeling instantly stronger with a healthy-looking radiance.