At Mio, we're passionate about treading gently on the planet. That's why we're so excited to introduce our NEW sustainability manifesto to help us become a plastic neutral brand and encourage a greener way of living for everyone.
Read on to learn more about our new beauty recycling schemes and the steps we're taking to help reduce our (and your) plastic waste and take the hassle out of recycling your beauty products once and for all. 
1. Our New Recycling Scheme
We're making it easier for you to recycle your plastic beauty products with our new recycling scheme, RecycleMe that is free, simple and can be done in a few easy steps. Who said recycling your beauty products had to be difficult? Not us!
The beauty industry is dealing with a serious plastic problem. Over 120 billion products are produced each year by the global beauty industry, and only 50% (that's right, only half) of Brits are recycling their bathroom products. But, thanks to our recycling scheme you can now put your beauty empties to great use whilst helping to protect the environment at the same time.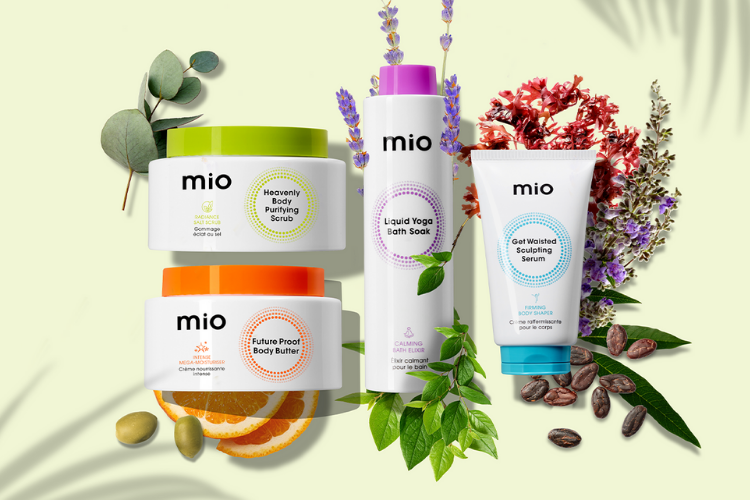 How Does It Work?
Step One: Subscribe to our scheme by filling out the form, here! Once signed up we will send a unique QR code to your email address.
Step Two: Clean out your empty products and pop them in a shipping box, separate from unrecyclable Mio products and other brands.
Step Three: Use your unique code to generate a returns code and drop your parcel off at your chosen courier point – It's as simple as that!
Once you have returned your empties, they will be sent to our recycling team who will begin the process of recycling your beauty products into post-consumer recycled packaging for brand new environmentally friendly products and sustainable skincare packaging!
What Are The Benefits?
It's completely free to use: There are no hidden charges when using our recycling scheme.
You're contributing to a better planet: You can feel proud knowing that you're helping to create a brighter future by not contributing to landfill. You can enjoy using your Mio plant-based bodycare in the knowledge that you are causing no harm to yourself, the environment and you're also reducing your carbon footprint.
A fuss-free process: Sometimes, knowing how to recycle your empty products can be confusing. But, being kind to the planet doesn't have to be time consuming and our recycling scheme offers you a fuss-free and easy-to-use process by following just a few simple steps.
What Happens To The Recycled Products?
After the waste has been collected and recycled into a raw material, it is then sold to manufacturing companies who complete the recycling journey and turn this packaging into end-products. These products can include outdoor furniture and decking, flooring tiles, playground surface covers, storage containers, watering cans and much more.
2. Our New Plastic Neutral Mission
We are thrilled to introduce our partnership with rePurpose Global, the world's first plastic credit platform that is dedicated to reducing plastic waste, changing and reviving lives whilst restoring the balance within nature. Their mission? To help people and businesses (like us) around the globe become plastic neutral by helping to empower pioneers at the forefront of protecting the future of our planet.
What Is Plastic Neutral?
Plastic neutral means that for each amount of plastic waste that is created, an equal equivalent is removed from the environment and recovered by a company through waste management and recycling schemes, like ours.
It's very important to note that plastic neutral is not the same as 'plastic free,' which means that a company or brand does not use any plastic whatsoever.
Our Impact Project: Accra, Ghana
We're helping to fund the collection and recycling of low-value, PET waste in Accra, Ghana that would otherwise end up in nature and continue to pollute our planet.
Accra is a rapidly growing capital, with a population of nearly 2.9 million people that produce almost 2,000 metric tons of waste per day, of which only an estimated 60% is actually collected. As a result, this uncollected plastic waste is blocking Accra's drainage systems, being burnt illegally or ending up in streams and ultimately, the ocean.
How It Works
By purchasing Mio products, you will be contributing to the functioning of a waste management system that focuses on PET waste collection and recycling. The PET waste collection is led by a network of waste workers that previously worked in miserable conditions.
Once the waste is collected, the PET bottles are shredded into small, chip-sized pieces and then washed with warm soapy water. The final product is a recylate that is exported to Europe and is used to make new consumer products that are made entirely of recycled PET plastic waste!
The Benefits
Other than the amazing environmental benefits, our impact project will help increase the income levels of the waste workers; helping to improve the quality of life of both themselves and their families. They will also receive a stable salary, which enables them to finally be able to access basic elements such as health insurance and bank accounts.
Products Our Customers Are Loving Right Now