Here at Mio, we care about our home. We're proud to say that our tubes, jars and card cartons are 100% recyclable. Our cardboard packaging is FSC certified and sourced from responsibly-managed forests that put sustainability at the forefront. Our formulas are always cruelty free and vegan, but doesn't that go without saying? Finally, we've decided to take an extra step to become a plastic neutral certified brand. You may be wondering, what does plastic neutral mean? At Mio, our core values include minimising our impact on our planet and giving back where possible, which is exactly what being a plastic neutral brand involves.
Here's all you need to know about what being plastic neutral means and how Mio has taken that extra step to look after our world.
What does plastic neutral mean?
According to Recycling Facts, despite the UK's 'War on Plastic', only 45% of our plastic waste is recycled. Therefore, 55% of our plastic waste ends up in landfills or the ocean.
What plastic neutral means is that as a brand, we remove as much as waste as we create. This is because for every kilogram of plastic we create, we fund and facilitate the collection, processing, and reuse of a kilogram of ocean-bound plastic waste.
We have become plastic neutral certified through our partnership with rePurpose Global, the world's leading Plastic Action Platform dedicated to reducing waste, reviving lives, and restoring nature's balance. 
What is a plastic neutral certification?

You may have heard of the term 'plastic footprint'. This is the amount of plastic waste that both companies or you as an individual create and use each year. So, when a company receives a plastic neutral certification, it is essentially verification that they are measuring their plastic footprint, eliminating as much plastic waste from nature as they are using, and making a promise to reduce their plastic use.
But how can companies begin to eliminate their plastic waste? By purchasing plastic credits. Plastic credits, created by rePurpose Global, are a measurable, traceable and verifiable instrument to incentivise the removal and recovery of additional plastic waste through numerous impact projects across the world.
In short, they represent the collection and recovery of a specified weight of plastic waste that has been recovered or recycled and would otherwise have ended up in our landfills or oceans.
When combined with an accurate measurement of a company's plastic footprint, plastic credits allow businesses to offset their footprint to net-zero. This along with a commitment to reduce plastic use will allow the company to achieve a plastic neutral certification.
Therefore, a plastic neutral certification is a powerful tool and incentive that allows finance to fix the growing problem of global plastic pollution.
Why is Mio Skincare plastic neutral certified
We work hard to reduce our plastic footprint. For example, our new plastic tubes use up to 28% less plastic than our old ones as they are made using sugarcane-derived biopolymer, which helps to reduce emissions and protect the environment. However, these efforts alone will not certify us as a plastic neutral brand.

As mentioned, at Mio we have partnered with rePurpose Global to partake in their plastic neutral certification programme. rePurpose will accurately calculate Mio's Plastic Footprint, and in turn we purchase plastic credits. The money spent on these credits goes to a rePurpose Impact Project, where an equivalent of plastic waste to our plastic footprint is collected and recycled on our behalf.
What is our rePurpose Impact Project?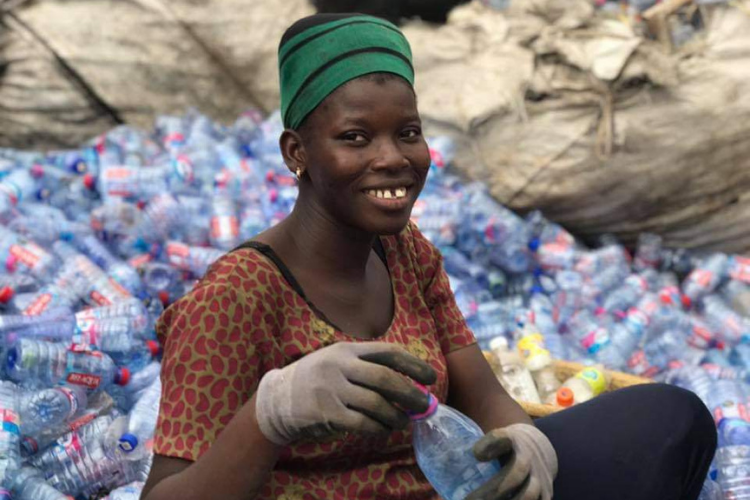 We're helping to fund the collection of plastic waste and PET bottles in Accra, Ghana by empowering local waste workers to collect and mechanically recycle this plastic that would otherwise end up polluting our oceans.  
Once fully processed, the waste PET is made into high-quality pellets that are sold on the local market or exported. Buyers in Europe and Canada then use the recycled PET to make new consumer products that would otherwise have been made out of virgin materials. 
If nothing changes, the amount of plastic leaking into our environment is expected to triple in the next 18 years. Ultimately, this Impact Project is our effort to stop ocean-bound plastic waste from leaking into Accra's coasts, protecting the Gulf of Guinea and its surrounding areas. Along with our efforts in reducing our plastic usage, contributing to this impact project has allowed us to put an end to contributing to the world's plastic pollution and provide an additional source of income for all the workers, elevating their own quality of life and that of their families.
Being a plastic neutral certified brand has allowed Mio to help divert 3339.5kg of plastic, the equivalent of 185 thousand plastic bottles, from the environment in the last year. As you can see, plastic neutral means far more than a certificate. Join us in our values to make the world a healthier place to live- every step counts.